Marc L's Music and Movies
I can't live whithout music ! I listen to music whenever I can. We have no super group, mostly solo singers. I chose Superbus as a group because I was seeing them in concert and I rather like their style… They make Pop-Rock and they sing in English sometimes because the father of the singer is English.
It consists of:
Jennifer Ayache, "Jenn": vocals, guitar, keyboard, tambourine, güiro (since 1999)
FOCONE Patrice "Pat" : guitar, keyboard, choir, singing (since 2000)
Michel Giovannetti, "Mitch" : guitar, choir (since 1999)
François-Xavier Even : bass, keyboard, choir (since 1999)
Abitbol Gregory "Greg Jacks" (former member of No One Is Innocent) : drums, percussion (since 2006)
Jennifer Ayache composes and writes almost all of the songs in French and English, except for some songs co-written with members of the group.
Their official website is : No links! Sorry.
When using a picture, you must write where you found it / Lorsque vous ajoutez une photo, il faut écrire où vous l'avez trouvée.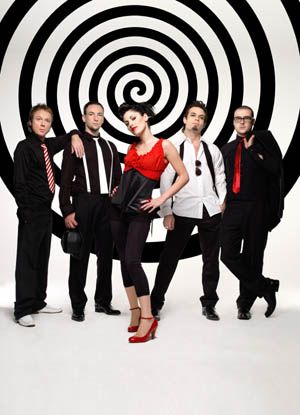 You can see them here : No links! Sorry.
page revision: 3, last edited: 08 Jan 2012 11:20